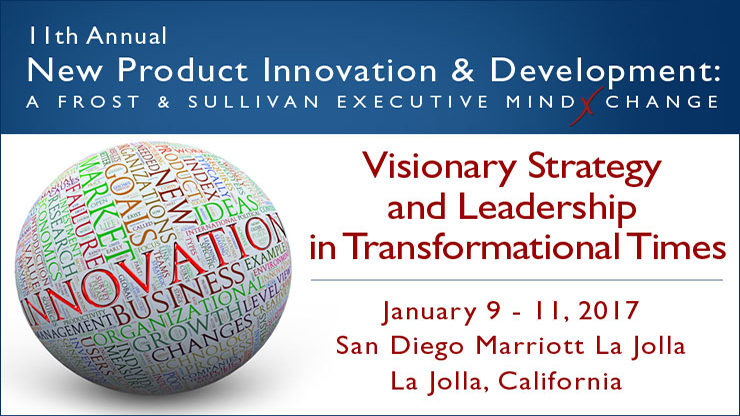 Stuart Karten has been selected to moderate a ThinkTank workshop at the 11th Annual New Product Innovation and Development 2017: A Frost & Sullivan Executive MindXchange! Held January 9-11, 2017 at the San Diego Marriott in La Jolla, this event assembles leading providers of innovation and product development software and services to share their thought leadership on what they see is working, and what is not, across the spectrum.
Stuart's ThinkTank workshop, where specific group activities and exercises are incorporated to stimulate cross-fertilization of ideas, will focus on "Collaborative Innovation: Partnering with Innovation Warriors." Creating product innovation requires a deeper connection with targeted stakeholders by uniquely addressing user's needs and attitudes. Incorporating multiple disciplines and adopting research-based strategies can be a recipe for innovation in the product development process, leading to positive user experiences. This session will help introduce how design thinking can help create collaborative, efficient, and cross-functional teams, which lead to products that consumers will admire.
See below for more details on how you can attend the event, and be sure to use our exclusive Karten Design discount to save $250! Just enter the promo code "kar250" at checkout.
WHO: Global leaders from aerospace and defense, chemical, materials and food, consumer goods, healthcare, industrial automation and electronics, financial services, and more.
WHAT: A three-day event that is uniquely collaborative in nature and features candid discussions between participants to generate ideas and insights you will not get anywhere else. Click here to see the detailed agenda, or here to see an overview of participants.
WHERE: San Diego Marriott La Jolla, 4240 La Jolla Village Drive, La Jolla, CA 92037
WHEN: Monday, January 9, 2017 – Wednesday, January 11, 2017
HOW: Click here to register, and use our exclusive Karten Design discount to save $250! Just enter the promo code "kar250" at checkout.