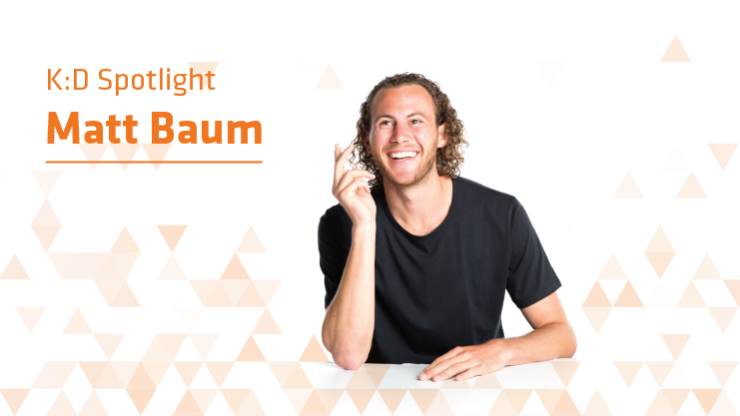 As a K:D Mechanical Engineer, Matt Baum combines his engineering and design experience to bring clients' creative visions to life as a working end product. In this edition of K:D Spotlight, we chatted with Matt to explore where he draws inspiration from and how device design and the Burning Man Festival have more in common than we think.
How long have you been with Karten Design and why did you want to become a mechanical engineer?
I have been with Karten Design just over 2 years. I've found myself increasingly interested in the relationship between people, art, and technology. Industrial design struck me as a unique synthesis of these elements, using creativity to apply the latest technology in ways that will create meaningful and enjoyable experiences for people. As a mechanical engineer at a design firm, I get to tackle how we take an idea and translate it into a working manufactured product, which is a problem solving process that I find challenging and fun.
What's been the most important lesson you've learned in your career so far?
Consideration of the end user. Much of design is very aesthetics driven – an expression of the designer's personal taste and interest. And much of engineering is very performance driven, but neglects the more human elements. Karten Design has developed a unique design process that is rooted in a passionate consideration of end users, and how we can humanize our relationship to technology. In my time here I've learned to let human need and experience drive my design work, and it's a much more meaningful–and effective–way to create.
Where do you draw inspiration?
The people around me that I work with every day are my most direct sources of inspiration. Outside of our client work, our team here has diverse creative interests and is always eager to share their skills and ideas. The city itself is a constant source of inspiration–LA is a very creative city, and I make an effort to explore the different subcultures of art, music, and culture here. Also, we live in an age in which the internet offers us access and exposure to creators around the world, so I try to dig around and learn from the work likeminded people in different parts of world. Sometimes all these influences can actually be overstimulating, so I often get out in the ocean to surf or up in the mountains to backpack and gain some perspective on it all.
You consider yourself an artist at heart; can you elaborate more on that?
While my degree and role here are in engineering, I have been exploring the fine arts my entire life. At my core, it's the process of creating that I am drawn to. Our projects here at Karten Design are one outlet for that. But outside my work here I am constantly exploring new ways to create. In the past couple years I have taken up woodworking, metalworking, and sewing through continuing education classes and personal projects. The act of envisioning an image or form and shaping it in space with your own two hands is something that is intrinsically rewarding for me. I'm increasingly getting the sense that art and craftsmanship are going to play a major role in my life and work.
Speaking of personal projects, you recently attended Burning Man. What did you learn from your time in the desert?
In most of our professional work we are confined to the demands of the market. Burning Man is an incredible event because it is practically without constraints, and allows all walks of artists to realize their crazy ideas that don't have context anywhere else. I talked about my interest in craftsmanship, and the Burn is a place where I get to experiment with industrial arts and the more physical, large scale aspects of design and construction. This year I played a major role in the construction of a 40 foot climbable tower with two fire-breathing dragons on top. Beneath the forms, the process of creating an art installation is actually similar to device design – as the designer you are aspiring to create an experience for your audience that evokes delight and wonder.
What are you working on now?
I'm currently working with a startup to help them manufacture a new design for a quadcopter. We've had quadcopters flying around the office crashing into furniture, and my desk is covered in a pile of disassembled copter parts. As an engineer, there's an inherent fascination with flying machines. I recall being amazed by Da Vinci's designs for human-powered flight the first time I saw them. Da Vinci's Workshop was actually the theme at Burning Man this year, and I started the quadcopter project upon my return from the desert–so I like to think there's some synchronicity there.
What project(s) are you most proud of and why?
I spent almost a year working full time with our research and strategy team investigating the world of pain management and how it is managed in the hospital and healthcare system. This was my first intensive immersion into designing for a wide ecosystem of users, rather than focusing more narrowly on a single product or user. At the end of the project we created a wall sized visual map that illustrated the key users in the pain management ecosystem, their interrelationships, and the landscape of needs that an effective pain management system must address. I think it's important to be able to zoom out and see the wider context of our work as designers, and the research process really showed me how to do that.