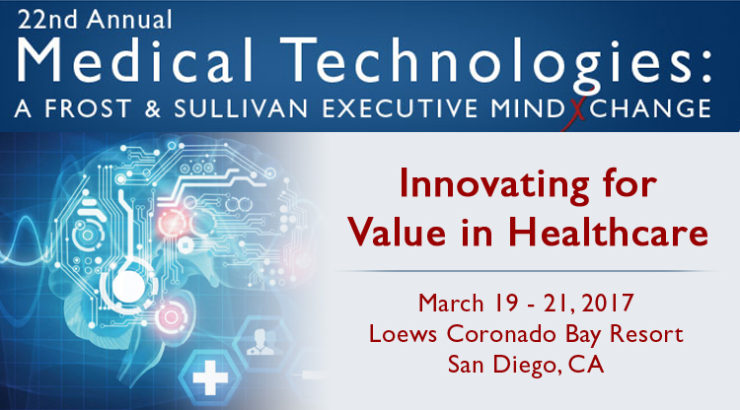 Stuart Karten has been selected to moderate a Fireside chat at the 22nd Annual Medical Technologies 2017: A Frost & Sullivan Executive MindXchange! Held March 19-21, 2017 at the Loews Coronado Bay Resort in Coronado, California, this event brings together healthcare and life sciences executives to explore the changing landscape of medicine.
Stuart's Fireside chat, where participants have the opportunity to examine issues guided by an expert voice in business trends, industry challenges and growth opportunities, will highlight how adopting design and research-based strategies in addition to emphasizing speed-to-market models could drive better outcomes for users and business.
Joining Stuart for the Fireside Chat will be Raymond Cohen, CEO of K:D partner Axonics Modulation Technologies, developer of the world's first rechargeable implantable sacral neuromodulation system. Both Stuart and Raymond will highlight how Axonics Modulation Technologies applies best new practices for healthy outcomes (and business!) Participants will discover powerful strategies for creating positive, user-centric experiences that help grow business and address new standards in health outcomes.
Don't miss out on this one-of-a-kind event! Be sure to use our exclusive Karten Design promo code "karten250" to save $250 at checkout. Click here to register.
WHO: Global leaders from medical device, diagnostics, connected health, product development, and life sciences companies.
WHAT: A three-day event that fosters collaborative dialogue to explore how best to navigate and prosper in a radically new healthcare landscape. Click here to see the detailed agenda, or here to see an overview of participants.
WHERE: Loews Coronado Bay Resort
4000 Coronado Bay Road
Coronado, California 92118
WHEN: Sunday, March 19, 2017 – Tuesday, March 21, 2017
HOW: Click here to register, and use our exclusive Karten Design discount to save $250! Just enter the promo code "karten250" at checkout.