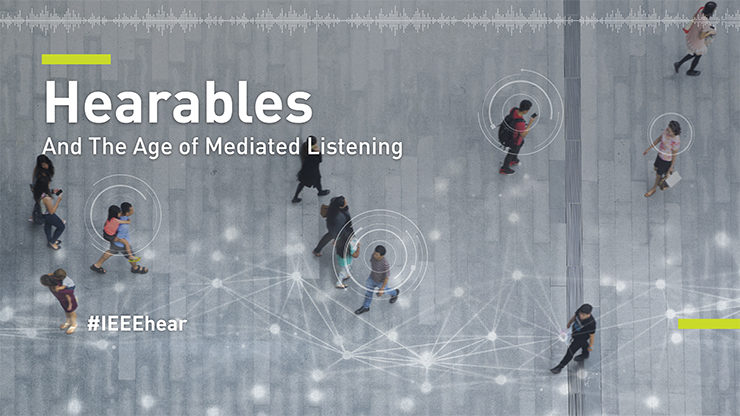 Karten Design is pleased to announce session details for its official 2017 South by Southwest (SXSW) Interactive panel, "Hearables and the Age of Mediated Listening." Held on Saturday, March 11, 2017, the panel will explore the rise of hearables and provide a glimpse into the future where this technology will help us filter, amplify, process and respond to signals in the world around us. Click here for a preview from Stuart Karten and panelist Simon Carlile in Engadget.
Stuart Karten will lead a lively discussion with two of the most respected minds in hearables to explore these powerful devices that have the potential to "listen" to our biometrics and respond to our brain waves. Panelists will discuss what we can expect in a world where everything is listening and how our lives, thinking and behavior will change. "Hearable and the Age of Mediated Listening" is part of the Intelligent Future track and IEEE's Tech for Humanity Series at SXSW.
In addition, Karten Design is excited to announce that one of our projects–the Starkey Halo 2 Made for iPhone Hearing Aid–has been named a 2017 SXSW Interactive Innovation Award finalist in the Wearable Tech category! For more information, click here.
Hearables and the Age of Mediated Listening
Date: Saturday, March 11, 2017
Time: 9:30-10:30 AM
Location: JW Marriott, Salon 8, 110 East 2nd Street
Panel presenters:
Stuart Karten, Principal, Karten Design
Simon Carlile, Senior Director of Research, Starkey Hearing Research Center
Poppy Crum, Chief Scientist, Dolby Laboratories Inc.
For panel updates, follow Karten Design on Twitter @StuartKarten and the hashtag #IEEEhear
For more information, download our press kit here or contact David Carlson at david@kartendesign.com.