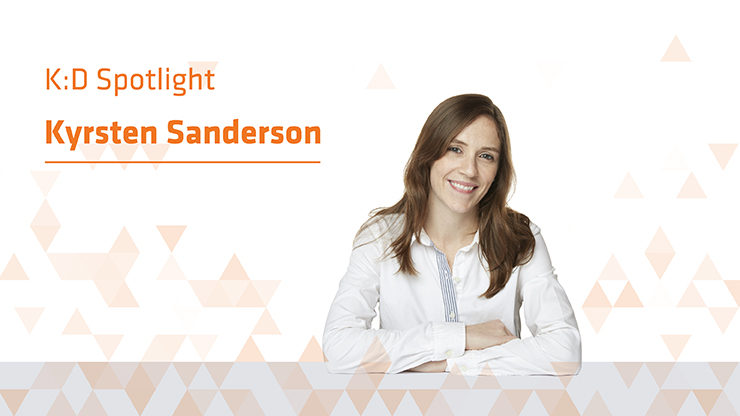 As K:D's User Experience Designer, Kyrsten Sanderson couples her love for aesthetics and her drive to improve people/product interaction both physically and digitally. In this edition of K:D Spotlight, we caught up with Kyrsten to discuss the future of UX design, including the rise of AI, and how UX design is changing the patient experience in healthcare.
How did you get into UX design and how long have you been with Karten Design?
I've been working at Karten Design for two and a half years. I became interested in UX design after reading Donald Norman's book, "The Design of Everyday Things" my last semester in college. At that point, I was finishing my degree in Experimental Art & Technology and I knew that the art world wasn't for me. I was drawn to UX design because it takes on real problems and applies creative problem solving to address them. This was really refreshing for me coming from a fine art background.
Can you share in a nutshell what your daily responsibilities are as a UX designer?
My responsibilities change from day-to-day, that's part of why I love working at a consultancy like Karten Design. In a nutshell I spend my days, sketching, wireframing, meeting with team members to brainstorm and discuss design challenges and ideas, and sharing design solutions to clients. Occasionally I work with our research team helping to define design requirements for user interfaces or doing user testing.
What's the most exciting part of your job?
The most exciting part of my job is the challenge of balancing constraints (i.e. business, technical, schedule, etc.) and developing the best possible design solution. Having constraints makes you strive for simpler more elegant design solutions for that context. Balance and good judgment become very important when working against these challenges.
How has UX design changed over the years and what do you think are the biggest challenges in the year ahead?
UX design is constantly evolving especially since it's is a relatively new design discipline and it relates so much to emerging technologies. I think it will be interesting to see how UX design can contribute to products or experiences that incorporate artificial intelligence (AI.) AI is becoming ubiquitous in our lives, yet there is still a lot of friction and I think there is ample opportunity for UX designers to define and improve upon these experiences.
What are your thoughts on the growing importance of UX design in health care?
I think it's great to see the health care community embrace UX design. Traditionally, the health care community has been slow to adopt design and emerging technologies. Yet, I think this is changing and device manufacturers, hospitals, and health and wellness enterprises are becoming more aware of the impact of user experience and how this can enhance care and lead to revenue opportunities.
How is UX a key way of connecting to the target audience?
UX design strives to understand user behavior, nuances in use and design exciting experiences for our target audience. A perfect example of this was when I was on a recent business trip; Uber has a new feature from their home screen where you can quickly toggle between personal and business profiles. The integration of this feature was so spot-on and really made my travel so much easier. It's little things like this that make an experience compelling and speak to the target audience.
What are you currently working on?
I'm currently working on the User Interface for a medical device used in the Cath Lab. The user interface assists with the implantation and calibration of a wireless pulmonary artery sensor for cardiac patients. The sensor connects to a cloud-based outpatient management system, which monitors the patient's hemodynamics and can identify cardiac risk. It's great to be part of a product that has such a tremendous impact on people's lives.
Are there any projects that you've worked on in the past that you're particularly proud of?
I spent almost a year working on a combined user research and design effort for a user interface for targeted temperature management in the hospital. We spent the first portion of the project focused on user assessments and uncovering insights and opportunities to improve the user interface. Then, we transitioned to design and were able to action on our findings while incorporating new features into the product. The project was so successful because we could immediately translate research findings into design. This project showed me how powerful research findings could drive the design process and how mutually beneficial the relationship can be.