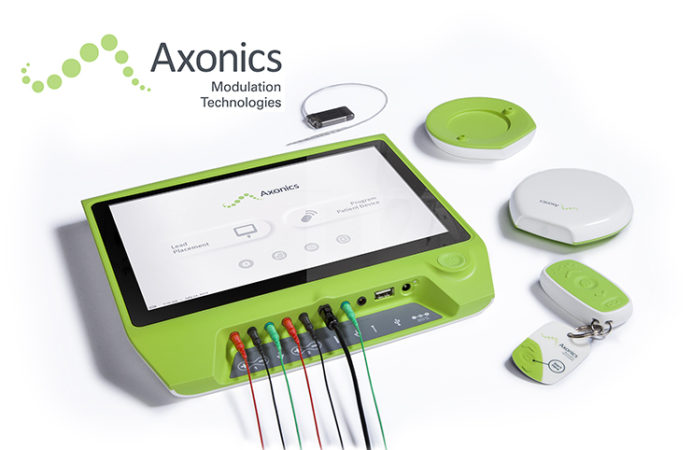 More great news from our partner Axonics Modulation Technologies, developer of the world's first rechargeable implantable sacral neuromodulation system (SNM)! We're excited to announce that Axonics recently raised $20.5 million in the second round of its Series C financing. This news comes as Axonics previously completed a $14.5 million first closing of its Series C financing. With this financing, Axonics will conduct a crucial clinical study in Overactive Bladder patients to gain U.S. FDA approval. In addition, the funding will assist the company in preparation to access untapped markets throughout the world.
Axonics' SNM system is comprised of a miniaturized, rechargeable implant, a digital clinician programmer, and a patient charger and remote. Neurostimulation therapy is used to treat overactive bladder, urinary retention, and fecal dysfunction, conditions that affect hundreds of millions of people in the US and Europe alone. Karten Design worked in close alignment with Axonics to design and develop the cutting-edge system in less than 30 months. Our teams employed design strategy, in-depth user research, and evaluative testing to develop a revolutionary product that significantly enhances the user experience for both clinicians and patients. Check out coverage of our work on the system in Fast Company Co.Design.
"These world-class investors have provided Axonics with phenomenal support throughout the development phase of our project, including attainment of key milestones such as European and Canadian regulatory approval and completion of our 50-patient European clinical study," said Raymond W. Cohen, CEO of Axonics. "Revenue from the sale of SNM devices is estimated at nearly $700 million in 2016 and is projected to grow to over $1 billion by 2021. With only one player in the SNM market today, our miniaturized rechargeable system represents a very attractive opportunity in the medtech space."
To read the full announcement, click here.