Chef Nyesha Arrington: Defining a New Era of Los Angeles Cuisine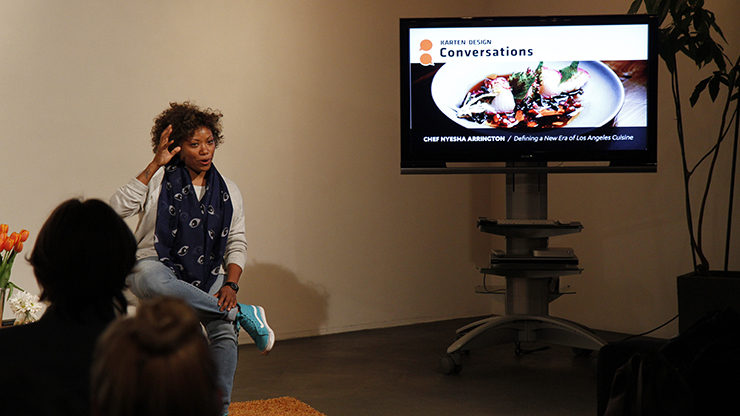 Chef Nyesha Arrington always knew from a very young age that cooking was her "true calling as a human being." Some of her fondest memories growing up were being in the kitchen alongside her Korean grandmother. Since then, Chef Nyesha has been hailed as one of Los Angeles' top chefs and now manages a kitchen built entirely on her creative vision of seasonally driven, globally inspired cuisine. At Conversations, Chef Nyesha shared how her experiences growing up in a multi-cultural family helped shape her cooking style and gave us an inside look into her creative and artful approach to conceptualizing dishes.
One of the first life lessons Chef Nyesha learned was that "you have to work really hard to get what you want out of life." She credits Chef Josiah Citrin of 2 Star Michelin Mélisse restaurant in Santa Monica for mentoring and giving her the opportunity to learn valuable skills involved in managing a kitchen. After spending over a decade learning from the most accomplished chefs, Chef Nyesha partnered with Kristian and Breegan Vallas in 2015 to open up Leona, one of L.A.'s more popular culinary experiences.
What sets Chef Nyesha apart from the highly competitive culinary industry in Los Angeles is her humble and spiritual approach to cooking. Chef Nyesha said that "a dish should make you feel something inside; I love the idea of food as fuel for feeding the soul."  Her meticulous attention to detail–particularly her use of farm fresh, locally and responsibly sourced ingredients–ensures that her legacy will be through food and cooking. From her multi-cultural upbringing to her audacious goal to "offer love through food," Chef Nyesha continues to make a culinary impact across the diverse landscape of Los Angeles and beyond.