Stuart Karten to Lead a Fireside Chat on Digital Health at 2018 Medical Technologies Executive MindXchange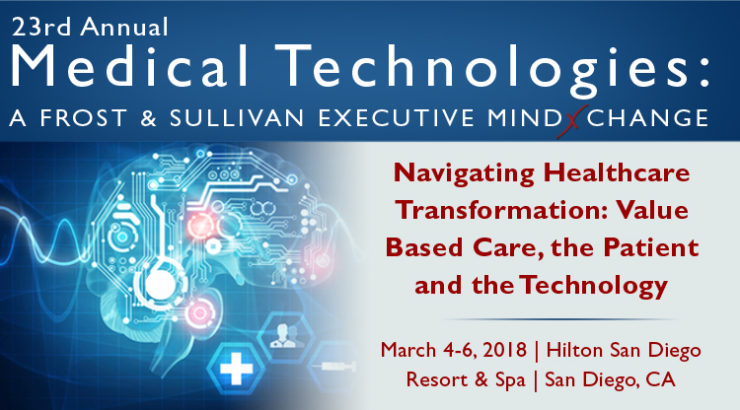 Stuart Karten has been selected to moderate a Fireside chat at the 23rd Annual Medical Technologies 2018: A Frost & Sullivan Executive MindXchange! Held March 4-6, 2018 at the Hilton San Diego Resort and Spa, this event brings together healthcare and life sciences executives to explore the changing landscape of medicine.
Stuart's Fireside Chat, where participants have the opportunity to examine issues guided by an expert voice in business trends, industry challenges, and growth opportunities, will highlight how to create impactful solutions in the complex network of digital health.
Joining Stuart for the Fireside Chat will be Chris Thierfelder, Director of R&D at Halyard Health. Both Stuart and Chris will share powerful strategies for unpacking the digital health ecosystem and highlight how tools such as Patient Journey and Experience Mapping can focus on the true needs of all stakeholders.
Don't miss out on this one-of-a-kind event! Be sure to use our exclusive Karten Design promo code "Karten250" to save $250 at checkout. Click here to register.
WHO: Global leaders from medical device, diagnostics, connected health, product development, and life sciences companies.
WHAT: A three-day event that fosters collaborative dialogue to explore how best to navigate and prosper in a radically new healthcare landscape. Click here to see the detailed agenda, or here to see an overview of participants.
WHERE: Hilton San Diego Resort and Spa
1775 East Mission Bay Drive
San Diego, California 92109
WHEN: Sunday, March 4, 2018 – Tuesday, March 6, 2018
HOW: Click HERE to register, and use our exclusive Karten Design discount to save $250! Just enter the promo code "Karten250" at checkout.