2015 Body Computing Conference Paints Futuristic Vision for Virtual Healthcare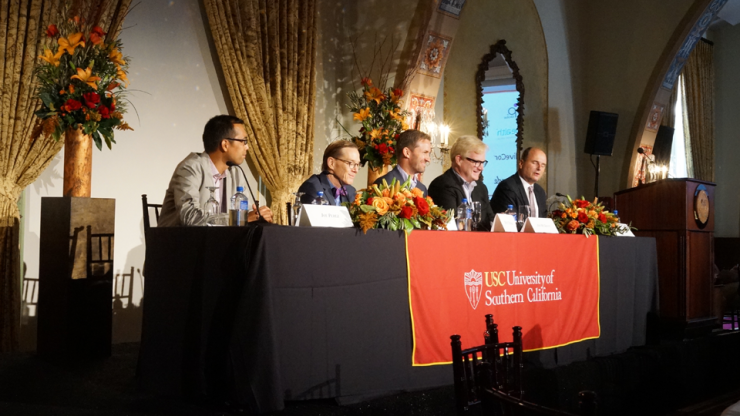 On Friday, October 9th, 2015, Karten Design participated in the ninth annual USC Body Computing Conference, where we heard from leading experts about how digital health and virtual/augmented reality are poised to radically disrupt healthcare delivery.
Virtualizing Healthcare
Dr. Leslie Saxon, founder of the USC Center for Body Computing, opened the conference with the announcement of the world's first Virtual Care Clinic—a revolutionary care model that leverages virtual humans and evidence-based health content to provide borderless, on-demand care. Karten Design is honored to join the USC Institute for Creative Technologies, Google, Yahoo, and several other leading Silicon Beach tech companies as founding partners of the clinic.
The Home: The Health Hub of the Future
Stuart Karten presented, "Design: The Connected Home for Health," in which he painted out a vivid vision for the home as the future platform for managing our health. Stuart believes that, through a combination of sensors, artificial intelligence, and holistic design, our homes will be able to seamlessly collect data from our bodies, activities, and devices to help us live longer and healthier lives. HIT Consultant published a summary of Stuart's talk here.
VR, AR, and Health Immersion
We also previewed some of the new ways VR/AR is being used to address problems in healthcare. From surgical simulation, disease management, and social isolation to phobia treatment, brain training, and PTSD therapy, the potential applications of immersive technologies seem endless. While the VR platform and its technology are strengthening, the primary challenge innovators are now facing is the creation of compelling, convincing content that will engage people long-term. Right now, it seems VR won't be a stand-alone solution to health, but rather part of a greater ecosystem of sensors, algorithms, products, and experiences that will enrich the health experience.
What always makes the Body Computing Conference so special is the spectacular variety of people Dr. Leslie Saxon brings together under one roof. This year, she succeeded once again in orchestrating a seemingly eclectic mix of experts—physicians, academics, designers, investors, technologists, veterans, and athletes, to name a few—who each brought a unique and significant perspective to the pressing issues of health and healthcare delivery. The conference serves as a compelling reminder that healthcare is a multi-faceted problem—and will require multi-disciplinary innovators to join together to solve it.
To learn more about our takeaways from this year's USC Body Computing Conference, download our Snapshot by clicking on the image below: