Kara Swisher: Inside Silicon Valley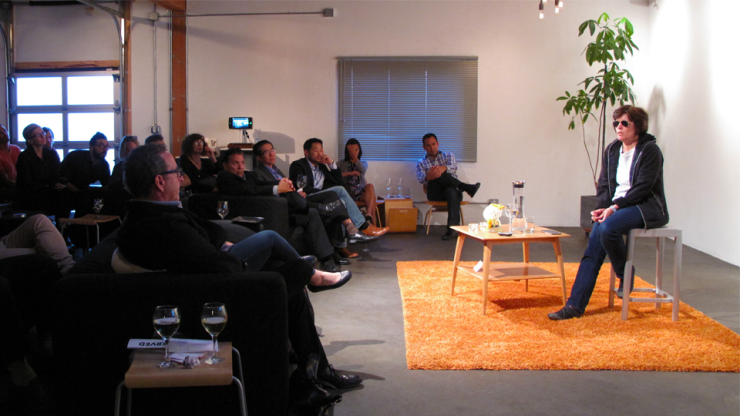 Kara Swisher is the Co-Founder and Co-Executive Editor of the popular tech website,
Re/Code
. As one of the Wall Street Journal's first hires assigned to cover the Internet, Kara started covering digital issues for the WSJ's San Francisco bureau in 1997. Over the last 11 years, Kara has served as Co-Executive Editor of the popular AllThingsD.com website, and successfully launched two of the industry's biggest tech conferences—D: All Things Digital and the
Code Conference
—where she's come head to head with luminaries such as Bill Gates, Steve Jobs, and Elon Musk. Known for her tough, truth-seeking reporting, Kara is widely recognized as Silicon Valley's "
most feared and well-liked
" journalist.
At Conversations, Kara examined the evolution of the Silicon Valley tech sector and shared her predictions for future tech trends. Citing the prevalence and power of the iPhone, Kara discussed how the Internet has bled into our everyday lives—essentially becoming "invisible—and how the future presents a new paradigm in which tools and technologies will be less important than what they actually accomplish. Because of this, she explained, the next age in computing will be about feelings and not technology. Kara sees a huge opportunity in health technology, and applauds the efforts of companies like Apple, Google and IBM who are tackling the challenge of managing health data despite barriers such as privacy concerns, heavy FDA regulation, and an extremely slow-moving healthcare system. She predicted that early adopters of wearables and health trackers will be instrumental in shaping the digital health movement, and will soon force the FDA and the U.S. healthcare system to adapt to technology more quickly.
To learn the top three tech-related trends Kara believes we should be paying attention to, download our Snapshot by clicking on the image below: